I have definitely taken some time away from the blog recently.  I have needed all the time I can get and you will soon find out why!
Here are some of the BIG changes happening:
1. On A Good Note will be merging with Music Therapy Connections to form Music Therapy Connections, LLC!!!!!!  We are so excited about this big change and the new opportunities it will provide!  Check out the website here!
2. We are moving into a new space!  I will no longer be providing services in homes.  Over the next few weeks we are transitioning to our new location with 3 new studio rooms and a group space we can use!
3. We are offering 4 groups in the fall.  They will include two early childhood music classes, a music therapy social skill group, and a beginner guitar class.  Registration will be up very soon! 
4. WE'RE HIRING!!!!!!  We have so many people wanting services that we are looking to hire another music therapist and expand our service EVEN MORE!!!
5. I'm getting married!  On September 6, I will be marrying my best friend and the man of my dreams!!
I am so excited about all of these amazing changes that will be happening over the next few weeks and hope you are just as thrilled!  I am also incredibly thankful for all of the support from my incredible friends and family!  I know this is very brief and to the point so I will share more details and background info in future posts.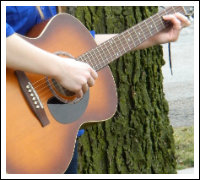 Thank you for all the support!!!