TODAY, Rachel and I move into our new office!!!!!!
Thursday, August 14, was my LAST DAY traveling to my clients' homes.  I couldn't help getting a little emotional. The families I work with have been so welcoming, inviting me into their homes, treating me like a member of the family, and respecting our boundaries during lessons.  I've seen younger siblings grow up and been a part of their lives every week for the past two years.  I will definitely miss those parts of teaching in clients' homes… though I won't miss living out of my car and all of the issues that come with being a traveling music therapist
like this mess when I come home and drop everything after a long day
However, there are some AMAZING benefits to having our own studio space.  My students and therapy clients will have a quiet space dedicated solely to the purpose of learning and growing through music.  I have control of the distractions in the room and can use as many or as few props and aids as needed.  I will have access to ALL of my materials at my fingertips!  If I need to print something for a students, I'll be able to do it in an instant.
No more forgetting things at home, losing things in my car, leaving things at homes, etc!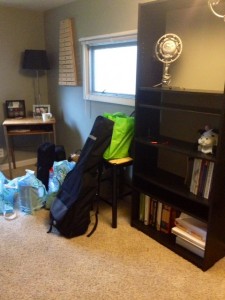 I got a little teary as I started packing up my home office, but couldn't be more thrilled about the amazing adventures ahead.  I'll spend the majority of today moving instruments, furniture, and books; unpacking boxes; and assembling desks and shelves… and I'm looking forward to every moment of it!!!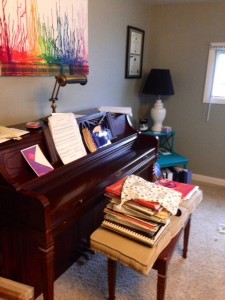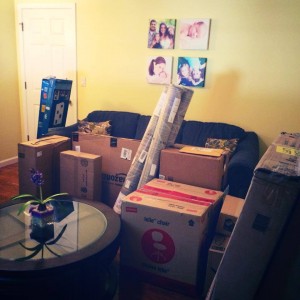 I will be sharing pictures of the new office very VERY soon!!!!