The other day I came across a speech therapy website that listed several wonderful interventions, apps, and word lists the therapist was using within sessions.  Her lists and ideas got me thinking about some ways I could apply the same ideas within my music therapy sessions.
I took the idea for The Action Bag, gave it a musical twist, and used it within my sessions to target the following goal areas:
following directions, reading, articulation, eye contact, creativity, expression, gross/fine motor, turn taking, and exploring new vocabulary.
You can also adapt this musical game to meet your clients' specific need!
Materials needed:  Brown paper bag, markers, paper, scissors, 1 durable instrument (I used an egg shaker)
Directions: 
Decorate the bag however you like.

Print out the list of actions available for free download on The Action Bag webpage or create your own list of actions.  (I did a little of both and did not include all of the actions listed on the printable page.  Use your best discretion when planning for your particular client)

Cut apart the actions and place them in the bag

Play the game with a client!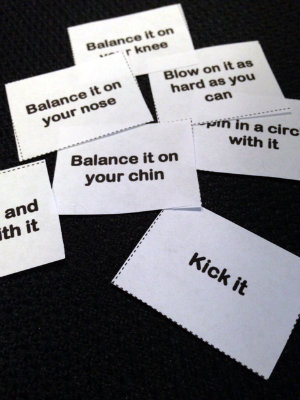 When I play this game with my clients, I have them select a directive out of the bag, read it aloud, then demonstrate the task with an egg shaker.  While they are demonstrating the task, I sing a short song using the words written on the paper and "can you play it like this".   When I stop playing/singing, the client can stop the task and select a new directive.  If working with a group, this can be used as a turn taking activity or with the whole group completing the same action.  
This is a fun, light-hearted game, that will have everyone smiling and laughing by the end!