Every so often, my session plans don't work out the way I planned.  As I mentioned in one of my MT advocacy posts, you cannot always predict how a client is feeling or how they are going to act on any given day, so you must remain flexible!  This next intervention came out of one of those flexible moments, creating an intervention on the spot to meet my client's needs while still challenging them.  I could not have been more excited about the results. This is our second time doing this intervention, as it worked out so splendidly the first time!
One of the large goals I am working on with this particular client is gross motor functioning.  We are working on maintaining balance, increasing individual leg movement, and increasing core strength.
Here is the intervention:
First, I placed the case of desk bells on the floor and asked the client to open it.  This requires him to use those fine motor skills to unzip the bag.
I then ask him to pick up a specific color of bell (working on those academic concepts) and place it in a certain place on the other side of the room.  This requires him to stand up, walk to the other side of the room and bend at his waist to set the bell on the floor.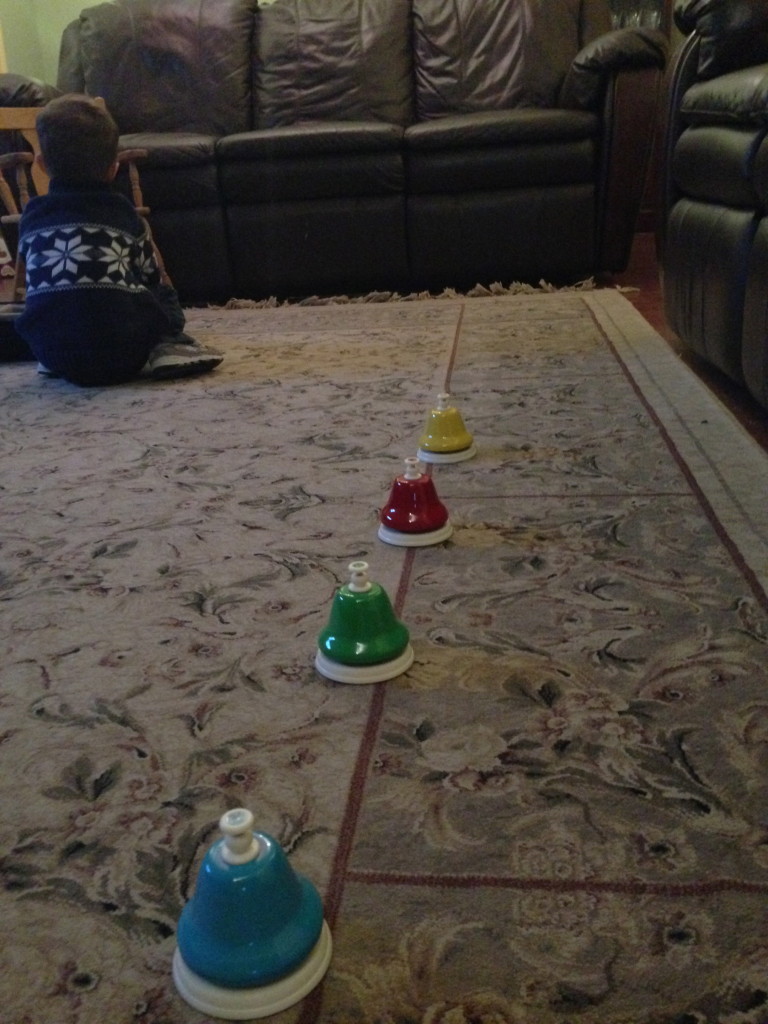 After placing the bells on the floor, I sing and play a short song asking the client to tap the bells with his toes, lifting their foot off the ground and gently tapping the bell.
When I noticed that he was starting to get tried, we added an element to give the activity some finality.   After tapping the bell, I would have him bend, pick it up, and place it back in the carry case.  You can check out a small part of this intervention by clicking the link below and watching the video!
Enjoy and Happy Wednesday!
(Pictures and video of this session were posted with permission from the client's parent and remain property of On A Good Note.  Please respect these clients.  Do not copy, save, or repost these pictures/video without written permission from On A Good Note.  Thank you for your cooperation. )