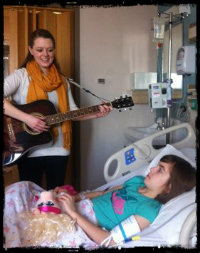 On A Good Note provides individual, family, and group music therapy sessions and assessments throughout Central Illinois! Individual and family sessions are conducted at the On A Good Note Studio in Lincoln, IL as well as in clients' homes.   We also currently provide individual and group sessions in the pediatric hospital setting.
Through the use of music-based intervention, music therapy targets clients' unique goals, as determined by caregivers, doctors, teachers, and therapists. Interventions led by a board certified music therapist utilize active music making and listening to address non-musical goals in a way that allows clients to participate in therapy in a stress-free and enjoyable setting.  Music therapy can aid in achieving social, emotional, communicative, and motor goals. Group music therapy also provides the distinctive opportunity for clients to socialize through shared experience while learning new skills that allow them to meaningfully participate in the community.
On A Good Note is looking to expand services to a larger community and will be accepting new clients and contracts.  If you would like to register for individual session please click HERE.  If you are interested in learning about how music therapy could benefit your business or facility please visit the Contact page.