The hospital can be a very strange, intimidating, and stressful place for children and their families.  There are new sounds, new people, uncomfortable feelings, and so much that is unfamiliar.  Music therapy can be a great way to comfort, console, and help kids cope with what is going on around them.
In my music therapy sessions, I sometimes use fill-in-the-blank songs as a device to get kids talking about their hospitalization or working on coping skills.
"In the Hospital" is adapted from the song "In the Jungle"  and asks children to talk about new experiences, sounds, and people at the hospital.   "Take Me Out to the _____" is adapted from "Take Me Out to the Ball Game"  and focuses on describing a child's favorite place or somewhere they would like to go.   These interventions could be adapted for individuals of all ages and can be used in multiple settings.
Below you will find both the FREE printable versions of these songs along with examples.  ENJOY!!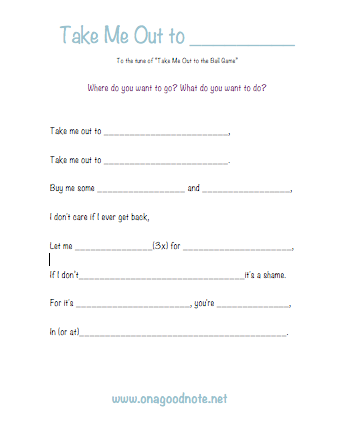 In The Hospital – Free Printable
Take Me Out to the ________ – Free Printable
Take me out to the ________ (example)