After our wedding in September 2014, life for Chad and I was supposed to slow down.  I remember telling myself every day leading up to our nuptials that it would "be ok, you'll have plenty of down time when you get back from your honeymoon".
 Never have I been so wrong.  As soon as we got home from our honeymoon, life resumed it's hectic pace but at an even faster speed. Even though it's been busy, it has been the most crazy, fantastic ride!
Two years ago this week, Rachel Rambach and I sat down to talk about the holidays, our favorite books and plans for the new year over a casual cup of coffee at Target (both of which are still big parts of our routine).  We talked about life and how great it would be to open a music therapy clinic space.   And that was just the start…
Within months, Rachel and I had formed an LLC and started renting space from Capitol City Music in Springfield, IL. We created early childhood classes that have take off like wild fire and started an online database where our original class materials can be purchased.  BUT IT DIDN'T STOP THERE!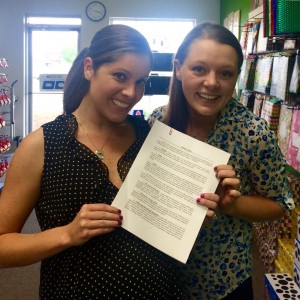 2015 was an even bigger year both personally and professionally.
In March, MTC started looking for a new home.  Knowing that we wanted to continue our growth, we knew we would need a larger space and to grow our team.
We ended the year with:
a 2,300 sq. ft. space that we renovated over the summer
our first intern
3 subcontractors teaching individual music lessons
1 subcontractor providing music therapy
1 administrative assistant
4 new classes
40+ new individual clients
a growing online resource database
and plenty of other milestones I'm probably missing
PERSONALLY, Chad & I:
Bought a new (old) home in Springfield (closing the same week as we signed our contract for our MTC building)
Started renovating our new (old) home
Started a rental business by renting out our Lincoln house and renting our 3rd story apartment
Learned the trials, tribulations, and exciting parts of being landlords VERY quickly
Celebrated our first year of marriage with an impromptu trip to the Dominican Republic
traveled to Germany & France
Chad traveled to several states and won six trophies with his mine rescue team
I sang with a band numerous times
I presented at our national Music Therapy Conference
I visited the Grand Canyon for the first time
ran 4 5Ks
we made some amazing new friends
and TONS of other small and large things that I KNOW I'm missing.
Needless, to say it has been my busiest but also best and most memorable year to date. I'm looking forward to taking on whatever 2016 has to offer.  
Happy New Year