A couple months ago I was making a quick pit stop at Barnes & Noble for some coffee and a quick bathroom break.  I had no plans to even browse the store but then something caught my eye!
How could this adorable scene and title not catch my eye?  As soon as I flipped through the first couple pages, a tune popped into my head and I just HAD to buy it!  I have fallen in love with this book and have used it is so many of my music therapy sessions.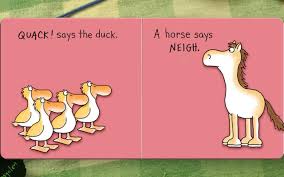 I've used this "Moo Baa La La La!" by Sandra Boynton in all of the following ways:
as a reward at the end of sessions

a quiet cool down
to target specific speech sounds
to work on multi-word phrases (ie "turn the page", "the end", "more please", "pink pig", etc.)
for attention
identifying animals and their sounds
naming colors
answering questions
taking turns
reinforcing vocalizations
encouraging eye contact
What are some of your favorite children's books that you have turned into singable stories?