I love using my iPad to reinforce the goals and objectives I am working on with my clients. This next app is great for meting a variety of needs with clients of all skills and abilities.
Singing Fingers!!

When you first enter the app, it will look a little something like this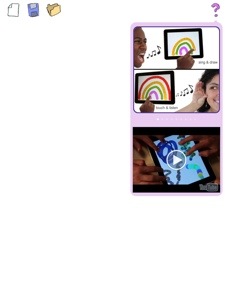 Tap on the blank page icon in the top left corner to start a new drawing. To draw, create a sound, sing, or talk as you drag your finger across the screen. Different pitches create different colors on the screen. Nothing will appear on the screen unless you create a sound while drawing. To demonstrate how this works, I sang different pitches while drawing keyboard.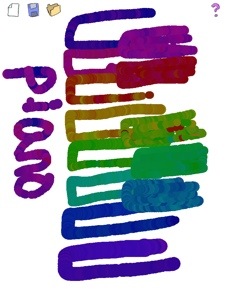 I have used this app with clients with speech delays, encouraging clients to create specific sounds while drawing. I have used this app to help teach different sounds, words, letters, and number; creating the sound of the letter or number while drawing it.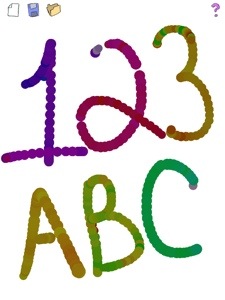 I have also used this app to work on pitch matching, tone, volume control, attention, fine motor skills and interaction. I will often draw something on the iPad and ask the client to create the same picture. To make it look similar, the client not only has to move their finger the way but also has to create the same sound. I will start by creating simple designs that match what I am singing or saying. If I slide my voice down then up, I would create a picture that looks like this: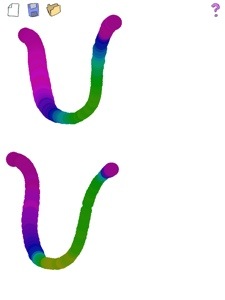 There are so many other fun and interactive ways you can use this app! To see a few more examples (with sound), check out the video on the Singing Fingers Website!
Enjoy!